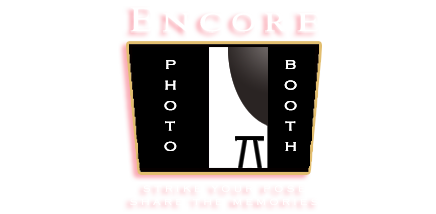 If you have been to any reception over the past 2 years, then chances are you have been inside a photo booth. These are great for preserving caption worthy photos that guests of all ages
LOVE
.
We here at Encore are photoboothing gurus. Fun fact, we actually own the website http://www.PhotoBoothing.com : ) We are commonly referred for our customer service and high quality. We have a modern booth design that actually
lights up and changes color
(on the inside and outside). It can match the same color as your wedding. It is so cool that we have a patent on our design. You can fit up to 15 people in a single shot. The booth has a sleek touchscreen monitor that looks like a Mac Book Pro. You can also select if you want color or black and white photos.
The proof is in the pudding... I mean printer! The biggest benefit of having Encore Photo Booth at your reception is quality and quantity. Most companies (about 95% out there) use ink-jet printers. They usually take up to
3 minutes
to print a photo.
That is unacceptable!
You will get up to
5 times
as many photos with our dye-sublimation printer, because
our photos print in only 6 SECONDS
!
Wow, and if you think that is a huge difference, then you haven't heard of the quality yet. Encore guarantees picture perfect photos. Ink-jet photos will smudge or turn yellow after several months. With our photo lab dye sub printer, your images will be waterproof and last decades. To learn more about the printer differences,
read what other companies are hiding
.
Since we don't do 'cookie-cutter' weddings, we will custom create a photo booth design footer that is special for your wedding date. All we ask is that clients think outside the box and make us work to impress them : ) You can view sample ideas on our pinterest
photo booth board
or in our
online gallery
.
Our goal is to give you more than just a photo booth. Our knowledgeable and personable staff will really leave an impression on your guests. No matter which package you decide on, we guarantee every photo will be picture perfect.
Capture it all with Encore's color changing photo booth!
Michigan Photo Booth
877.MI.EVENT
877.643.8368